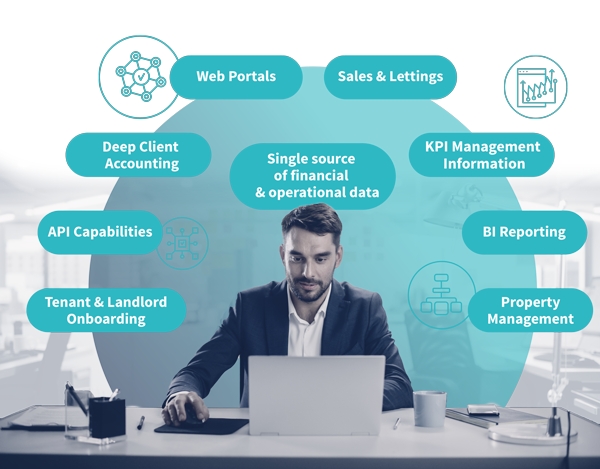 What if every person and every process in the lettings lifecycle are connected in one platform? How does that help lettings agency firms?
The best way to explain the difference between platform technology and using several different proptech products from different providers is this:
Before supermarkets, people went to the butcher, the baker, the greengrocer, the chemist, the hardware shop, the dry cleaner, the pet shop and so on, to get their shopping done. It took up a lot of time and effort. Supermarkets brought all of those things under one roof, so people now only had to go to one place to get everything they needed.
And so it is with proptech. Most so-called solutions out there are really Customer Relationship Management software, potentially with integrations enabling some level of functionality with other software, like accounts, document signing or fault reporting. A CRM system is just one shop in our analogy, not the supermarket. So how are you going to do all the things your lettings business needs to do? Where are the other shops you need?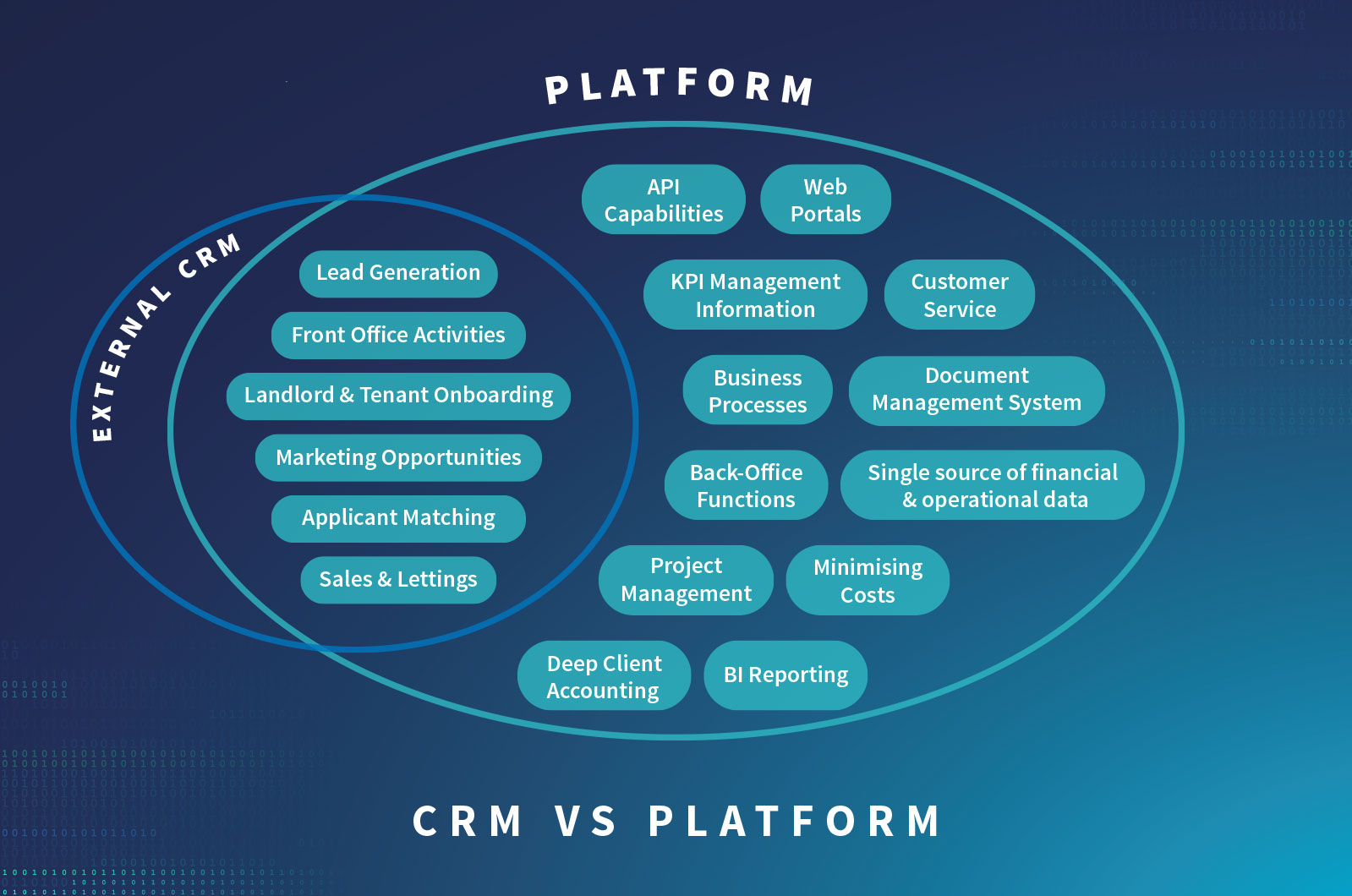 What's the difference between a true platform and a CRM?
Customer Relationship Management software does what it says on the tin. It handles the customer relationship, matching tenants to properties, landlords to mailings and taking care of marketing, sales and lead opportunities. CRM systems can do billing, but that's where their capabilities end. CRM systems are all about managing the front-end of the lettings process. CRMs can't do any of the critical back-office processing involved in the lettings process, so a CRM has to integrate with other providers' products to come up with something that can ostensibly compete with a platform-based solution. Except it still doesn't.
Inherently, using 10 different software products from several developers will cause your business problems. Probably today – and definitely tomorrow.
Going back to billing, that's a useful function for a CRM to have, but in property management, we have client accounting to take care of. It's not a nice to have, it's critical. It's deep, ledger-based accounting that has to happen. The PropCo platform is able to not only handle customer relations, but is also able to reconcile billions of transactions and rent receipts every year, for the UK's biggest estate agency firms. To the penny. And that's the power of a genuine platform solution. It's the whole supermarket – with all of the functions taking place at the same level of detail, talking to each other perfectly and sharing data in one place.
Rich data for better decision-making
Without a property-specific platform, you end up cobbling together a load of partially non-property industry integrations onto a CRM and if you do that, the different parts of the system need to talk to each other…well, nicely.
If one app is doing the tech equivalent of speaking fluent Italian to another that only has a few basic phrases, that's a big issue. Why? Because your vital information will be stuck in different silos, leading to misunderstandings – duplication and missing or corrupted data. That means that as a business, you won't have the right, rich and real-time data you need to instantly understand where you are and what you need to focus on. If all of your processes take place on one, unified platform, you have the power of centralised analytics at your fingertips, to drive better business decision-making.
Different software, higher fees
Using a piecemeal solution has another downside too. You'll pay more for it! If 10 different companies are selling 10 different pieces of software to you, they don't have the economies of scale that a single, platform provider has. Everyone needs to make profit on their piece of the puzzle, so it's much harder for those providers to give a competitive price on their part. Add that premium from several different providers together and the client seriously loses out in price and functionality!
Who's keeping your data secure?
Data security is a huge issue for every industry, but even more so for the lettings industry, which handles sensitive data from tenants, clients and landlords. If you're using a piecemeal solution to handle your data, maintaining data security becomes a nightmare. Who is in charge of your data – and your customers' data? At which point in the process does one provider's responsibility start and end? If there's a data loss, who is responsible? Will you have to go to several different providers to try and find out where the loss occurred? If you use one, platform-based provider, you get the twin benefits of knowing that only one company is handling your data so there's less chance of a loss and if there ever was one, you'd know exactly who could fix the situation, fast.
A platform takes efficiency sky-high
Working with a company that builds platform technology for your industry means that your provider MUST have all of the expertise to build all of the parts of the platform, under one roof. Business analysts, developers and subject matter experts work together to fully understand both the industry's lifecycle and every client's business from top to bottom.
This is a world away from taking the piecemeal approach with a CRM and some integrations, from companies that don't understand the whole picture. It's going to massively limit what lettings agents can do with their tech and ultimately, with their business.
Having access to your platform tech partner's 10 subject matter experts on tap, who love nothing more than to solve property-related operational challenges, is a game-changer. And what's the alternative? You'd have to hire several different consultants to solve an issue – generally at top whack!
Giving agents' customers the best service
You may have heard people talk about having a "single view" or "golden view" of a customer. The reason why that's important is that having a single view of the customer, where all of the records and documents are in the same place, makes for happier customers, ultimately. But that single view can ONLY happen in a platform, where every single interaction that a customer has ever had with you and your business is stored in one place. Agents can make sure that they never lose a customer, because they can see exactly what's happening, they can analyse the health of a customer and they can foresee what's going to come up. A single view enables agents to become far more intelligent and strategic in their interactions, knowing for example, when tenants are going to give notice before they do!
Operationally, using a platform saves agents vast amounts of time and money. That's because all of the end-to-end processes happen in one place, so efficiencies are baked in at every stage. Admin heavy tasks like tenant onboarding and chasing rent arrears are transformed by platform technology like PropCo, slashing hours of boring admin time for agents and enabling them to focus on growth. But the customer benefits massively too, because again, they can do everything in the same place because of platform tech. Instead of having to receive two or three emails to go through the tenant onboarding process, re-entering their details multiple times in different places and setting up new accounts, they can just enter them once, in one place. That makes for a far slicker, quicker process – and happier customers.
Pioneering tech, for today and tomorrow
TBL has been at the cutting edge of Property Management software for a quarter of a century. We were the first in the PropTech sector to offer a bespoke Property Management Software as a Service (SaaS). Why? Because it was better for our clients that way. It was more flexible, both cost and functionality-wise for our clients and it could be continually updated and optimised without clients having to purchase a new version. Platform tech means that it's much easier to solve problems as they appear on the horizon, because there aren't multiple moving parts controlled by other parties to consider when creating a solution.
Platform technology is the heart of TBL's flagship product, PropCo. It enables our clients to achieve their business goals and to scale, fast, by not just solving the big problems, but by creating a tidal wave of incremental gains at the same time. Because everything is connected. Because everything flows together perfectly. Because everyone can see and act upon what they need, when they need it, in one place.
All the people, all of the processes, one platform.

About Vik Tara
Chief Technology Officer
A genuine PropTech entrepreneur, Vik is a well-known innovator and influencer within the property sector. A leader in building smart solutions that have fuelled the digital transformation and first-to-market when it comes to solving problems through intelligent design.
Chief Technology Officer
A genuine PropTech entrepreneur, Vik is a well-known innovator and influencer within the property sector. A leader in building smart solutions that have fuelled the digital transformation and first-to-market when it comes to solving problems through intelligent design.
View all posts by Vik Tara