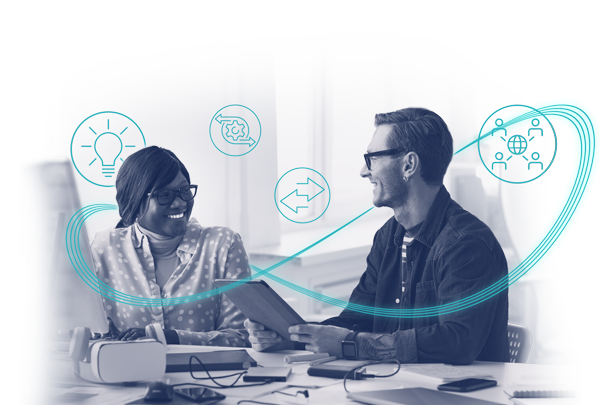 It's no secret that the lettings industry has been slow to embrace the benefits that technology has to offer. COVID accelerated that process, through the necessity of having to manage agents, tenants, contractors and landlords needing to access information remotely. Still, the reality is that many agents don't get the value of great tech and the rewards it brings for lettings businesses.
There's an element of sticking to the old ways of working, to staying in our comfort zones. That approach fails to take account of both the huge raft of changes to the industry – the increased compliance burden being a great example – and the expectation of better customer service from landlords and tenants these days.
Agencies need to take the time to understand – and make sure that their employees understand – the value of technology and how it can solve their business problems. Human business problems. The best way to do that is to have a genuine partnership with their tech provider.
What does true partnership look like?
Gone are the days when big companies can bully their supply chain. Rightly, there has been a power shift, with the recognition that working together rather than in a climate of fear, gets the client better results. As well as being the right choice ethically!
Fundamental to a partnership approach is respect. Respect for the value and expertise that the supplier brings to the table. From TBL's point of view, we can get the best results for our clients when they recognise that we are here to solve their problems and make their lives better, through technology.
But that takes vulnerability and trust on the client's part. If we don't know about your problem, we can't solve it! Although we're always scanning the horizon for anything that may affect our clients, every business is different and a true partnership sees clients being completely open about their issues and letting us find new ways to solve them.
We're big fans of McKinsey's Supplier Collaboration Index, which has five pillars that we look to implement in our client relationships. The pillars are: strategic alignment, communication and trust, cross-functional engagement, organisational governance and finally, value-creating and sharing.
Let's take a look at how this model applies to lettings agencies: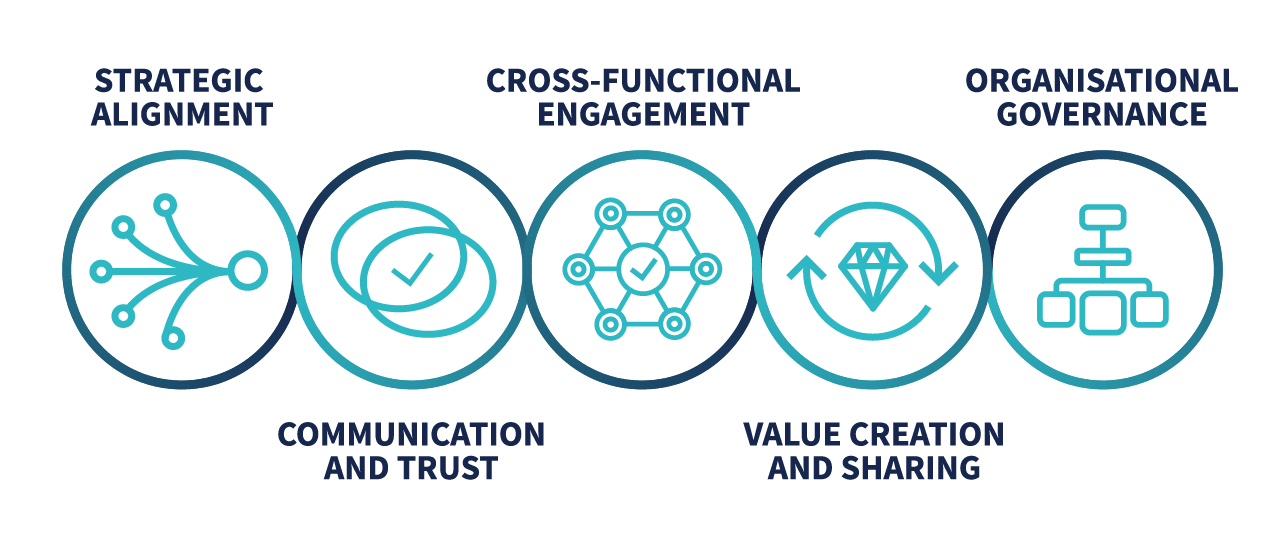 Strategic Alignment
One of the biggest issues for people in the lettings industry when it comes to tech is that technology is way outside their comfort zone. They don't get it and they feel intimidated by it. It's not just the employees in branches, either. Senior leaders, like Chief Operating Officers and Lettings Directors also don't understand how technology can solve business problems and as a result are making critical business decisions without a full understanding of the issues and solutions.
Forward thinking agency chains are bringing in Chief Technology Officers, to bridge that gap, but the real key is to be strategically aligned with your tech partner from the outset. Sharing your business's goals and objectives, as well as its problems is the right approach to get the most from a collaboration. The tech partner can then share recent developments in the tech space that will help the organisation to meet their goals.
Setting key metrics for what success looks like, being guided by your tech partner's expert knowledge of what can realistically be achieved is the starting point. Once there's a concrete agenda for digital transformation, it's a matter of regularly reviewing progress, at least quarterly, together. Once the programme is underway, we need to be looking back at what has been achieved, but also looking forward at what the opportunities are.
In terms of mindset, senior leaders like the CEO and COO in particular, need to see their tech partner as a growth enabler. On the other hand, as tech partners, we are always looking to find ways to grow our clients' businesses.
Getting that strategic vision aligned and maintaining that focus is the first step to getting the very best out of your tech partner.
Communication and Trust
Building a culture of trust is vital to make sure that the partners can effectively identify and bridge gaps within teams, expertise and experience. Effective strategic alignment is impossible without good communication. If CEOs, COOs and Lettings Directors don't make the time to sit down with tech partners and transparently discuss their growth objectives and issues and to listen to how the tech partner can help then there are often problems.
An understanding of the value and benefits of working with a tech partner is critical. All the key stakeholders in a lettings agency firm need to truly understand what they are buying and the value attached to it. In a collaboration built on trust, tech partners can take on board the customer's aims and articulate the value and the business case for key projects. If a CTO needs the CFO to understand the value of a particular program or project, the tech partner should be working hand in hand with them to articulate that effectively and to communicate the direct business benefits in non-techie terms.
Tech projects demand a cross-functional team
After 25 years of experience working with lettings agents, one crystal clear requirement for an effective collaboration is a single point of contact for both the agency firm and the tech partner. For effective communication and management of scope, cost and time, that's the way it needs to be.
After that, project managers, NOT customer account managers need to be driving delivery of tech projects. Although customer account managers will need to be involved in maintaining overall customer relationship management, it's experienced project managers who will be needed to keep the project on track and deliver it successfully.
Within the lettings firm, a cross-functional team including project managers, business analysts, heads of process or delivery, lead developers and engineers will need to work together to make sure that the business gets the best out of the project.
The Project Manager will need to hold meetings fortnightly at a minimum, with everyone involved having a clear understanding of roles and responsibilities. What does success look like? There needs to be a success framework and criteria that is tracked regularly, including scope, time and cost. As the project progresses, there should be a cycle of building and testing functionality, alongside testing what has been delivered. The partners involved should be asking themselves if the project is meeting the agreed goals. Importantly, digital transformation is NOT an IT project. It is a business transformation project and that's why it demands cross-functional support and implementation.
Value Creation and Sharing
This is where the benefits of true collaboration come into their own. When the client lead and the TBL Account Manager share the business case, which they often co-create, with the assigned Project Manager, they can ensure that the joint client/TBL project team are fully aligned and focussed on their common goal.
Project design reviews explain the specific tech choices made for the client and how they will work to meet the client's business goals. Regular demonstrations are a key part of the delivery process, keeping stakeholders up to date with progress and making sure there are no nasty surprises when it comes to User Acceptance Testing. Because nobody likes unpleasant surprises.
Organisational Governance
Creating a proper structure around a digital transformation project means that everyone understands their role and there's no misunderstandings about who needs to do what, when.
There should always be a project organisation chart and a RACI matrix for every project. RACI matrices detail who is responsible, who is accountable, who needs to be consulted and who needs to be informed every step of the way during the project.
When everyone has visibility and accountability of what's happening, the project will move forward much more smoothly, with a genuine sense of everyone pulling together in the same direction.
Changing the script – Moving Forward
When it comes to business and digital transformation, as in so many areas of life, change needs to come from the top down. Senior leaders need to demonstrate the right behaviours themselves, alongside investment of both money and time and crucially, communicating effectively about the value and benefits that technology will bring to their lettings business.
Genuine collaboration with the right tech partner brings a tidal wave of business benefits to lettings agencies, enabling massive growth. But getting the best results starts with something that has nothing to do with technology and everything to do with being human. Trust and respect.